Tools for doing business in Montreal

MontrealCIE Business Centre for
Business place for entreprises from
Immigrant Investor Program in Canada France Quebec Business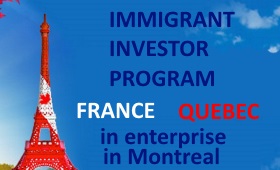 A new private program for immigrant investors in Canada allows the business people of France in Quebec to obtain practical experience in business in Quebec, to better start their own businesses. This is a practical training program for business people from France and other French speaking countries, based in Quebec. This new formula allows the internship immigrant investor candidate not only to observe the workings of a Canadian company in operation, but also to talk with the manager and chairman as well as receiving tips directly in the field. This is an exclusive VIP program for integrating private investor entrepreneurs in Quebec by which a Quebec entrepreneur serves as a mentor and advises the investor of France about business in Quebec.
Step preparation and French investment business in Canada, France Quebec
The goal for French candidates is to make better decisions, and doing so through a local company will allow them to:
Better understand the market and Quebecois terms for supply and demand;
Know how to practice trading in Quebec and what are the manners and customs of business practice;
Make Quebec business contacts, such as lawyers, accountants, entrepreneurs and future customers;
Participate in projects;
Know how to search and find business opportunities, such as land, buildings or businesses;
Know other participants and make business partnerships to share business start-up costs, be more efficient and have a more profitable future business in Quebec;
Share a business office in Montreal as the first platform to start a business. It can be either a new company or a branch of France in Quebec.
The French investor in Quebec therefore has all the resources to better understand the market in Quebec while being assisted by a Quebec entrepreneur who has relevant experience. Before venturing into a business in Quebec, it is important to be well informed. There is no better information than that taken directly from practical experience. It is in this light that Construction Daniel Dargis Inc. enables business people to come from France as an explorer, viewer and well-rounded businessman in the business.
The immigrant investor program in Quebec, Canada varies in length from 1 to 12 months and may even extend over a longer period. The Quebec Immigrant Investor candidate may attend the training course on a full or part time basis. During the first weeks upon arriving in Quebec there are often several things to do such as: find a home, enroll children in school, find childcare, vehicle purchase, dedicate time to proceeding to company start-up and/or other investments. It is therefore possible to combine these occupations and be assisted.
The first step is to get the right information gradually in order to allow the investor to absorb everything he or she needs to start a business or buy an existing one in Quebec.
The second step of business integration in Quebec, Canada for immigrant investors
Once the information is obtained and acquired, some experienced business professionals in Quebec, business people of France in Quebec can :
Create and propel their businesses from France to Quebec while receiving not only advice but also concrete assistance :

with access to a marketing expert and advertising in Quebec;
meeting with suppliers, subcontractors and professionals in the construction industry in Montreal and increase their contact networks;
finding a partner to represent Montreal;
enjoying an office equipped to start their businesses in Montreal;
participating in projects and have the chance to offer their products and services.
Entrepreneurs from outside Montreal who wish to obtain contracts in Montreal may do so not in the usual way by hiring a local or be limited to visiting clients or walking into offices and placing ads, but by taking advantage of experienced advice, offices, equipment and marketing of a Montreal construction company in which they may participate in.
Conditions for having access to the Immigrant Investor Program Canada in enterprise in Montreal, Quebec
Certain conditions apply to the practical training for the immigrant investor program in Montreal in a company. These conditions depends on the type of business, business volume, objectives, full and part-time participation, and learning speed.
The MontrealCIE.com Business Centre in Montreal is a business platform allowing the immigrant investors, consultants or business professionals from the outside to gain experience in a practical way and propel their careers and businesses in Quebec and Canada.
Do not hesitate to contact us!