Tools for doing business in Montreal

MontrealCIE Business Centre for
Business place for entreprises from
Marketing construction sector in Montreal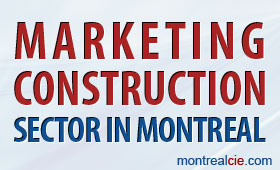 Since the early 2000s marketing has changed considerably with the advent of social media. Marketing techniques now employ programmers, Web designers and SEO experts. Although these new information technologies are fast, efficient and necessary for consumers to have easier access to information and for entrepreneurs to come forward, the fact remains nevertheless that traditional techniques still have their place. Marketing in the construction industry in Montreal and elsewhere in Quebec and Canada requires a team of computer experts and specialists in the field. The MontrealCIE Business Centre, being a construction and marketing expert, helps entrepreneurs and business people in marketing for the construction industry.
Traditional construction marketing
Formerly the marketing in the construction and real-estate sector was limited to:
Putting a large sign in front of a construction project with the words "Open House;"
Having an ad in the local newspapers or the yellow pages;
Presenting drawings, sketches of houses or projects in paper format;
For the wealthier developers, getting a live interview on the radio;
Having a model home and a salesperson waiting for customers to come by on evenings and weekends;
Knocking unannounced on the doors of the buildings to negotiate an advantageous offer of purchase.
Web marketing tools for the construction sector
Nowadays, a new vocabulary and marketing tools have made their entry, such as:
SEO (Search Engine Optimization);
Natural or productive referencing;
The keywords;
The search engines;
Google Analytics;
Online campaigning;
The campaign settings;
Max CPC, cost per click;
Virtual tours;
The digital tablets and smart phones.
Traditional marketing and Web marketing for the construction and real-estate sector
Audacity and persuasion have gradually given way to ingenuity, speed and easy access to information. Developers and real-estate business people know that it is essential to have in one's marketing team not only IT-professionals who can bring up the announcement of the company in the top positions on search engines like Google, but also audacious real-estate professionals able to perceive business opportunities, present themselves and contact with composure property owners, negotiate purchasing deals and close sales.
The MontrealCIE Business Centre in Montreal provides business people, general and specialty contractors, engineers, architects and designers, suppliers of materials and manufacturers of the construction sector, with experts in Web and traditional marketing in order to increase their sales in Montreal.
Do not hesitate to contact us!