Tools for doing business in Montreal

MontrealCIE Business Centre for
Business place for entreprises from
MONTREAL BUSINESS CENTRE IN CONSTRUCTION AND MARKETING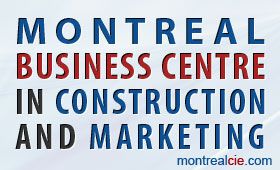 A new concept of a Business Centre for the construction sector has emerged to help businesses in the construction industry from outside of Montreal to have access to the Montreal market. Montreal is the city of Eastern Canada that generates the most construction projects per year. It is an important business platform in the Quebec and Canadian construction and real-estate economy. Although construction is the sector of the economy that generates most of the jobs, another area which we do not talk about enough but on which construction companies as well as other sectors increasingly depend for doing business are the Internet media and especially the Web marketing media. Companies in the construction sector from outside Montreal, the Province of Quebec or even Canada who choose to settle in Montreal to increase their sales, obtain contracts and find customers, will find advantage in allying themselves with a competent team as experts in construction and efficient in Web marketing. The MontrealCIE Business Centre provides these services in Montreal to companies wishing to connect into the Montreal market.
In Montreal the possibilities are great but the competition in business is also very present. Companies in the construction sector such as: general contractors, suppliers of materials, manufacturers, professionals, engineers, architects, designers and SMEs are found in large numbers and for newcomers, who do not benefit from a reputation, obtaining visibility is crucial for winning contracts throughout the year. This is especially true during the cold winter season during which many companies in the construction industry see a slowdown in their sales. These companies mostly do not know how to use the new tools of Web marketing to get new customers and contracts.
It is in this spirit that the MontrealCIE Business Centre has been created, which, between 2012 and 2013, has distributed more than $27 million offers of construction and renovation projects of all kinds to its member general and specialized contractors, engineers, architects and designers, such as: bathrooms, kitchens, basements, additions, new homes, condos, daycare centres and shopping malls.
Montreal, being the engine of the economy with its consumer base and the MontrealCIE Business Centre in construction with its experts in Web marketing and construction, combine to help business people from outside of Montreal, general and specialty contractors, construction professionals, engineers, architects and designers, suppliers of building materials and manufacturers, to increase their sales.
Do not hesitate to contact us!