Tools for doing business in Montreal

MontrealCIE Business Centre for
Business place for entreprises from
MontrealCIE Business Centre in Montreal for interior designers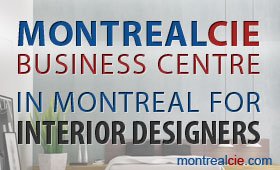 Montreal is not within the reach of all businesses from distant cities. Some professionals find it easier than others to come and connect into the Montreal market. Unlike construction contractors, manufacturers and companies that operate with labor and equipment and to whom the costs of transport greatly influence their competitiveness, interior designers have the flexibility to find contracts in a larger area because their main working tools often boil down to:
their creative minds;
paper and pencils;
portable tools in a suitcase;
construction materials that are found throughout the province.
Starting a business for an interior designer
However, starting a business, even for interior designers who want to project a beautiful image, involves significant costs in: marketing, leasing or desktop sharing and purchasing software. It is for this reason that the MontrealCIE Business Centre, expert in construction, in Montreal, provides an opportunity for entrepreneurs designers to have access to the customers, a desk to work at and meet clients and to work tools to start a business.
Interior designers use as main work tools: a computer, software, a ruler and measuring tape, paper and color crayons. Life is easier for them because their supplier of main materials catalogs are often large chains such as RONA, RENO, Home Depot or Matco Ravary, with stores throughout Quebec, so that, to design a kitchen, a bathroom or the basement of a house and have access to materials, is an easy matter because these materials are found throughout the Province. Once the client is found, the work is limited to:
making an on-site visit to take measurements and talk with the client;
returning home or to the office to draw proposals, make estimates and a list of materials;
visiting the shops to find materials;
presenting the project options.
The MontrealCIE Business Centre in Construction Marketing in Montreal makes the Montreal market accessible to designer entrepreneurs from Trois-Rivières, the great City of Quebec, Victoriaville, Saint-Hyacinthe, Granby, Sherbrooke, the Beauce region, Chicoutimi, Val d'Or, Ottawa and even Toronto. The MontrealCIE Business Centre in Construction Marketing takes care of:
creating and delivering Web sites;
mounting the promotional campaigns;
receiving calls and arranging appointments;
providing a mailing address in Montreal, an office to work in and getting to know people in;
providing computers and CAD software, such as: Autocad, SketchUp, Revit, 3D Studio Max.
The MontrealCIE Business Centre in the construction sector in Montreal, headed by Mr. Daniel Dargis, Engineer, is the business platform of choice for contractors and interior design consultants to go into business and increase their sales.
Do not hesitate to contact us!